Today I want to show you my son's Beach Boys bedroom.  No not those Beach Boys…his Beach themed bedroom.  I have always absolutely loved decorating my kid's bedrooms.  While I lean more towards neutral tones for most rooms in my house, the boy's rooms have fun themes with bright and vibrant colors.  They were the first rooms in the house that I redecorated when we moved in.  Moving from New England to North Carolina being a big change for them, I wanted them to have a space that felt like their own.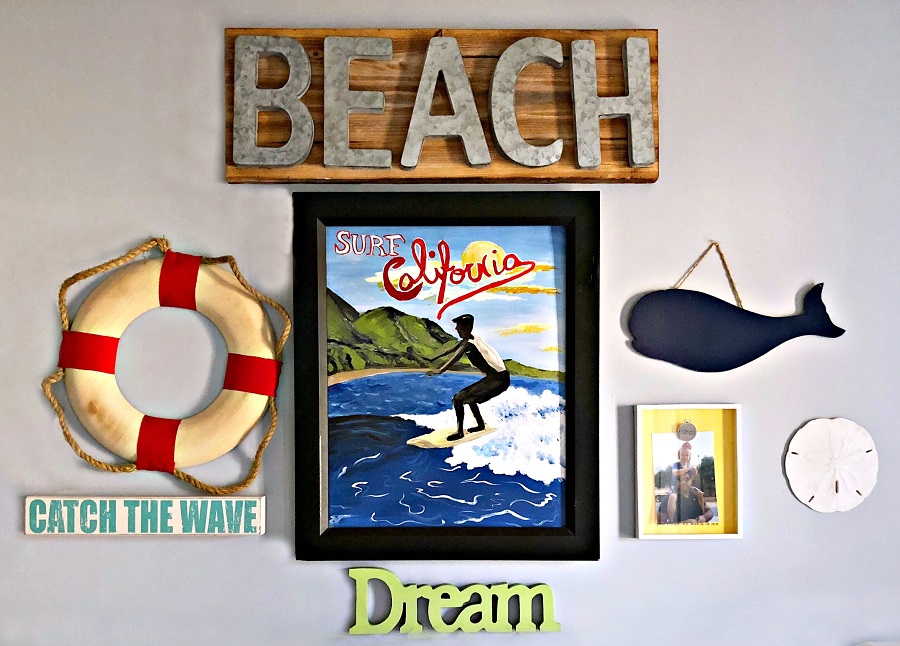 Since I started blogging about home décor, I realized that with every room I decorate, I have 4 rules that I always apply:
#1- Find Inspiration
#2- Use what you have, shop your house
#3- Splurge when necessary, cut corners for the rest
#4- If you can…DIY hacks
#1- The main focal point when decorating Sawyer's room was his quilt from Pottery Barn Kids.  I will admit, I love Pottery Barn!  There isn't a thing there I wouldn't love to own, however, a lot of things from there I can't justify spending the money on.  I'm not going to spend $80 on a lantern when I can go get one for $20 at Home Goods, ya feel me?  Believe it or not, the quilt on Sawyer's bed is…9 years old, and even back then it was a pretty penny!  I originally purchased it when Lucas was 3, it was his bedroom quilt for 3 years.  When we moved, he wanted a Star Wars room in the new house.  I moved this quilt to the playroom to cover up an old stained couch we had in there.  It has survived 4 years of playroom shenanigans, and endured the usual plethora of kid grossness: puke, potty accidents, boogers, marker, food and drink spills, you name it.  It's been washed a million times and it literally looks like I just bought it.  That being said, I was willing to spend the money to get this high quality quilt, and it became my inspiration for the rest of the room.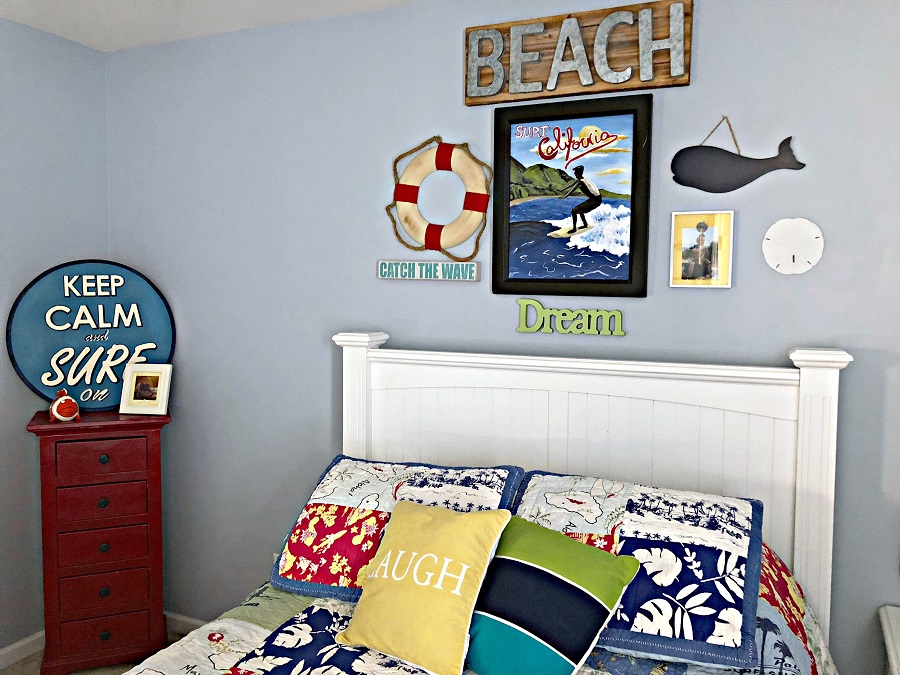 #2- Probably my favorite rule when decorating is to shop your house.  Use what you have!!!  It's a great way to save money and put things to use that are lying in the garage or even being used in another area of the house.  For this room I pulled some decor items from Luke's old room, even a lantern I had displayed in the living room.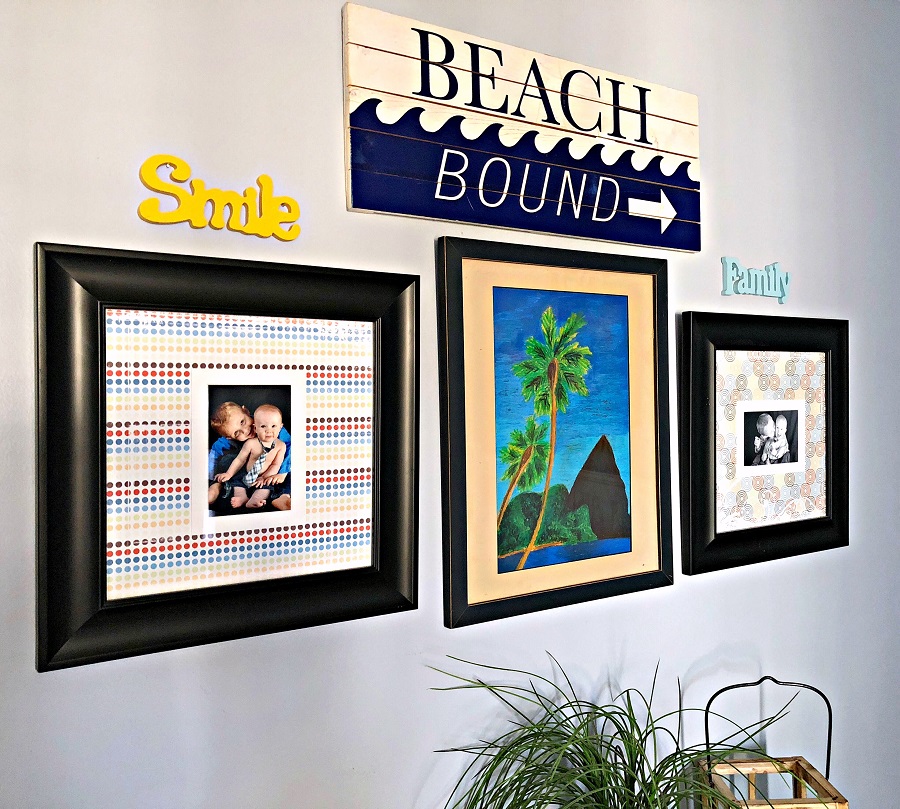 #3- My splurge was obviously the quilt, 9 years later I would say that splurge paid off big time.  As for the rest, I went on the hunt for Beach themed decor at affordable stores like Hobby Lobby, Michaels, and Home Goods.  Many things I found were similar to things I saw in the Pottery Barn kids store for a fraction of the cost.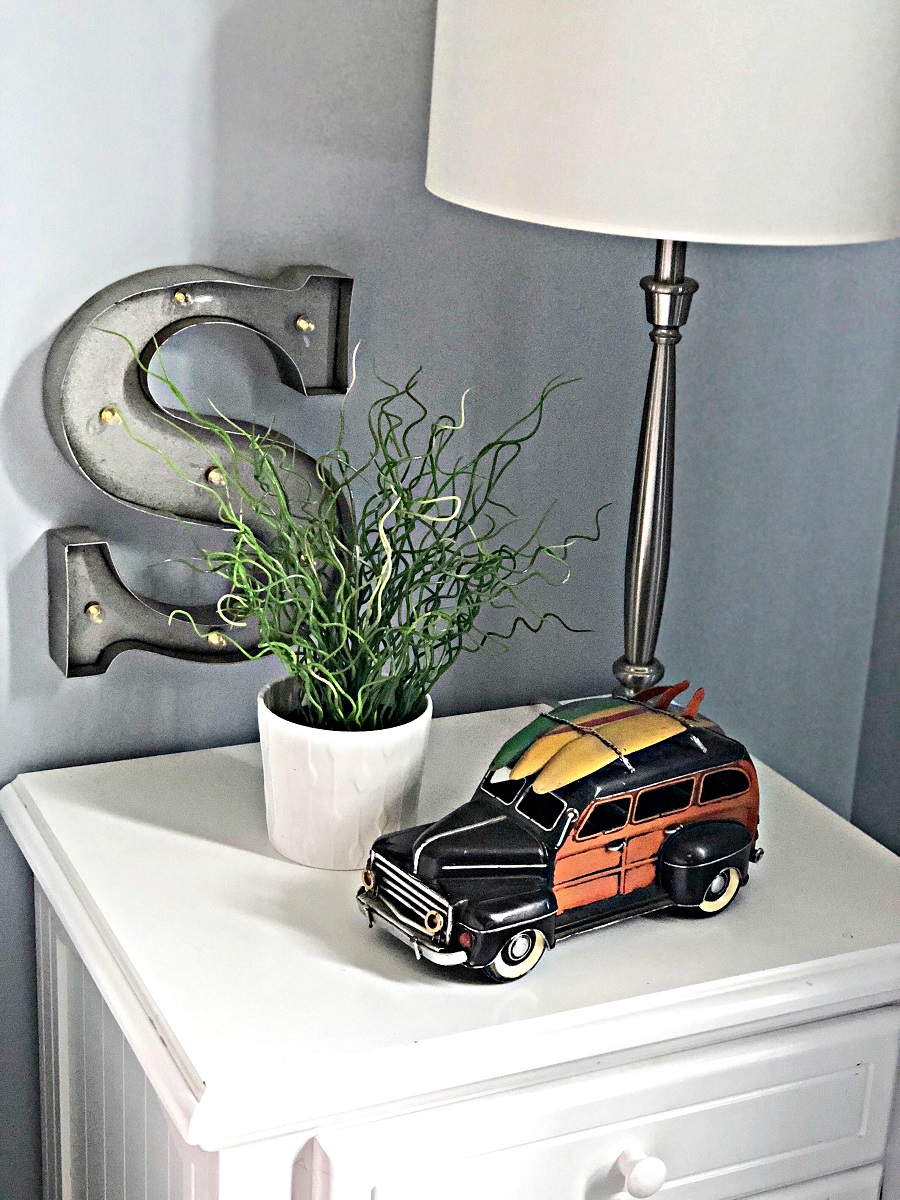 #4- Pottery Barn Hack: I saw this "Surf California" print in the Pottery Barn catalog and fell in love with it!  One problem, I wasn't about to spend $395 on it.  I decided to paint it myself.  (Disclaimer: I've always loved to paint and draw.)  I used $1 acrylic craft paints and a canvas from the craft store.  If you aren't artsy, there are still options for you.  I have a few friends that tried their own and they have no artistic background, they did a great job!  Give it a try, you may surprise yourself!  Also check Etsy.  There are many artists that sell kids art similar to Pottery Barn, that are much cheaper, and you'll be helping a small business!  Win, win!
I know this will be the last very kiddish room Sawyer will allow, lol!   I'm hoping it last two more years, then I'm sure he will want something a little more grown up.  For now, he's enjoying his room.  Truth be told, I'm already brainstorming about his next bedroom overhaul!
---
Shop This Post