Years ago when I started working as a Personal Chef (I'll tell you about that in another post), I learned that you have to offer people a wide range of menu items and options. One challenge is learning to make something your client will enjoy even if it's something I don't particularly like. Salmon, not a fan. Did I cook it 100 times for clients? Sure did! During that time I was getting a lot of requests for gourmet cakes and cupcakes, word was spreading. There came a day I got an order for a Carrot Cake. I've never been a big traditional carrot cake person. I don't like raisins, I also don't like chunks of nuts and pineapple in cake. I think cake should have a smooth moist texture.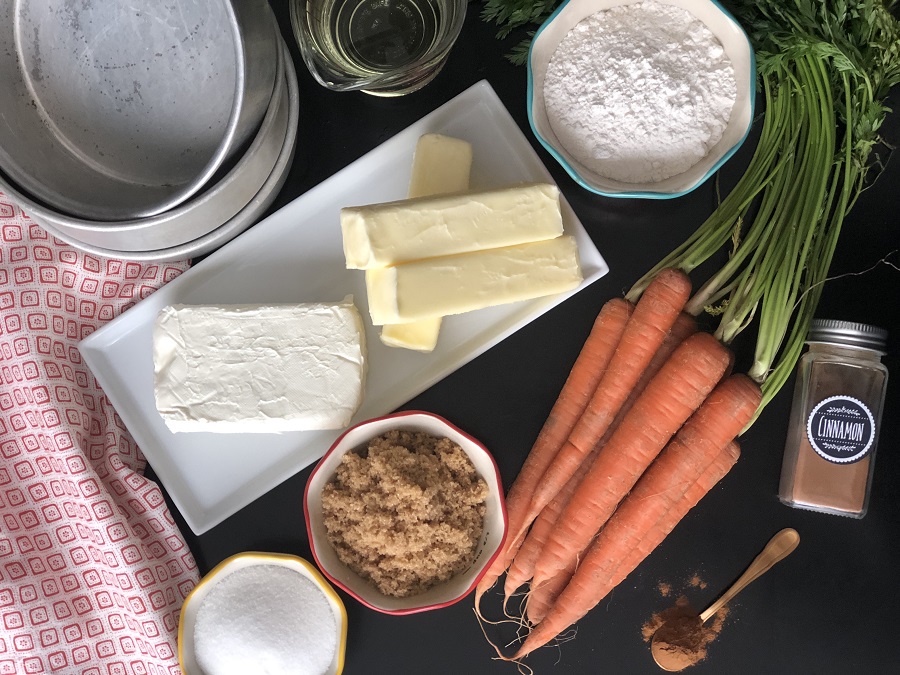 With everything I cook, I like to put my own little twist on something when I can. I decided to make this carrot cake a little different. Not only is the cake so good…but so is the frosting. I remember a time when I owned my bakery (I'll tell you all about that too) I had one customer order a slice of Carrot Cake, when she was finished she came back up and ask if she could just have some frosting! I gladly gave her a little cup full of frosting which she proceeded to enjoy with a spoon! To be honest, it became one of my most requested and raved about cakes. When I go back home to visit Connecticut, I usually have some requests for it from past clients.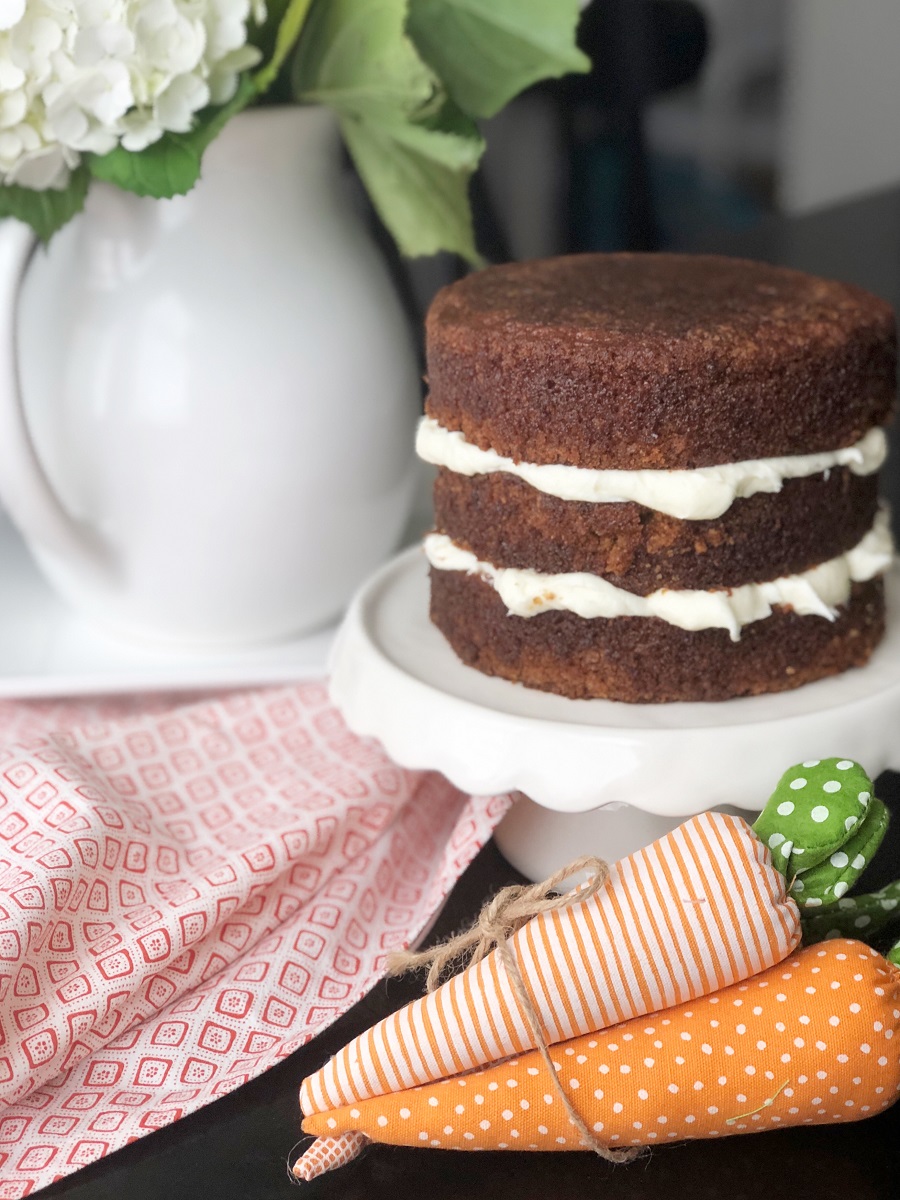 Today I had my favorite little baking partner helping me. He couldn't be any more like me…he loves to cook and to do art projects! Side note, how cute are his new cooking Duds?
Give it a try, you won't be disappointed! Let me know how it turned out!
Yield: 12-16 Servings
The Best Carrot Cake Ever…I'm Serious, it's AMAZING!
prep time:
15 MINS
cook time:
30 MINS
total time:
45 MINS
Carrot Cake
Ingredients:
1 Cup Granulated Sugar
2 Cups Brown Sugar (light or dark)
4 Eggs
1-1/2 Cups Vegetable Oil
3 Cups Shredded Carrots
1/2 Cup Buttermilk (if you don't have buttermilk, add 1 tablespoon of white vinegar or lemon juice to regular milk, let it sit for 15 minutes)
1/2 Cup Applesauce
1 Teaspoon Vanilla Extract
3 Cups All Purpose Flour
1 Tablespoon Baking Soda
1 Teaspoon Salt
2 Teaspoons Cinnamon
1/2 Teaspoon Nutmeg
1-1/2 Cups Glazed Pecans
Directions:
Preheat oven to 350°
In a mixer, combine granulated and brown sugars and eggs, vanilla, buttermilk and vegetable oil, and mix on low until well combined.
In a separate bowl, combine flour, baking soda, cinnamon, nutmeg and salt.
Add the dry ingredients to the mixture of wet ingredients and mix until well combined.
Fold in the shredded carrots.
Grease three 9inch baking pans and line them with parchment paper.
Distribute the batter evenly between the three pans.
Bake for 30-35 minutes, make sure a toothpick comes out clean in the center.
Allow to cool completely on a wire rack.
Frosting
Ingredients:
1 lb Salted Butter, at room temperature
1-1/2 Bricks Cream Cheese, at room temperature
1-1/2 lb Powdered Sugar
1 Teaspoon Vanilla Extract
2 Tablespoons Heavy Cream
Directions:
In a mixer, cream together the butter and cream cheese on low speed until well combined.
Add the sugar slowly and continue to mix.
Once the sugar is combined, add the heavy cream and vanilla.
Increase the speed on the mixer until the frosting is fluffy and bright white.
Frost each layer of cooled Carrot Cake and decorate the cake as desired.
Add the chopped glazed pecans to the outside edge of the cake and top as desired.
ENJOY!
---
Shop This Post