This week I decided to share one of my favorite cake recipes with you! English Strawberry Tea Cake is light, delicious and perfect for a Spring or Summer dessert.  What a better time to share it since strawberries are officially in season here in North Carolina!  Last weekend we took the short trip to
Patterson Farm
in Mt. Ulla, NC for strawberry picking!  We went a little crazy and picked a ton, well the kids went crazy and picked a ton!  When we got home I quickly realized I was going to need to figure out a few ways to use them up, and fast! I guess had to bake something?! Oh shucks! If I have to!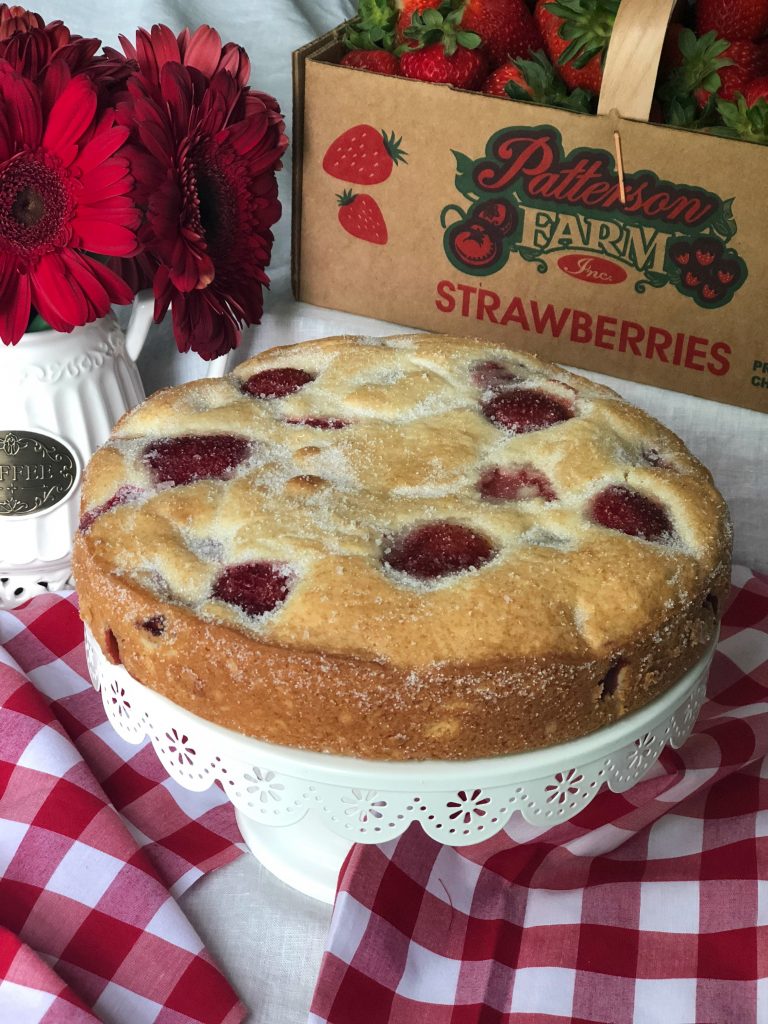 Major bonus: it's sooooo simple!   If you feel like you're out of your comfort zone in the baking department, this is a great starter recipe.  Even though its easy, its so beautiful and no cake decorating skills required.  If you've been following my blog you already know that I love to bake and I love to change recipes up and experiment.  This recipe is very versatile, you can certainly use any kind of berry or fruit that you want.  I imagine it would be just as stunning with Apples in the autumn months and I definitely plan to try it.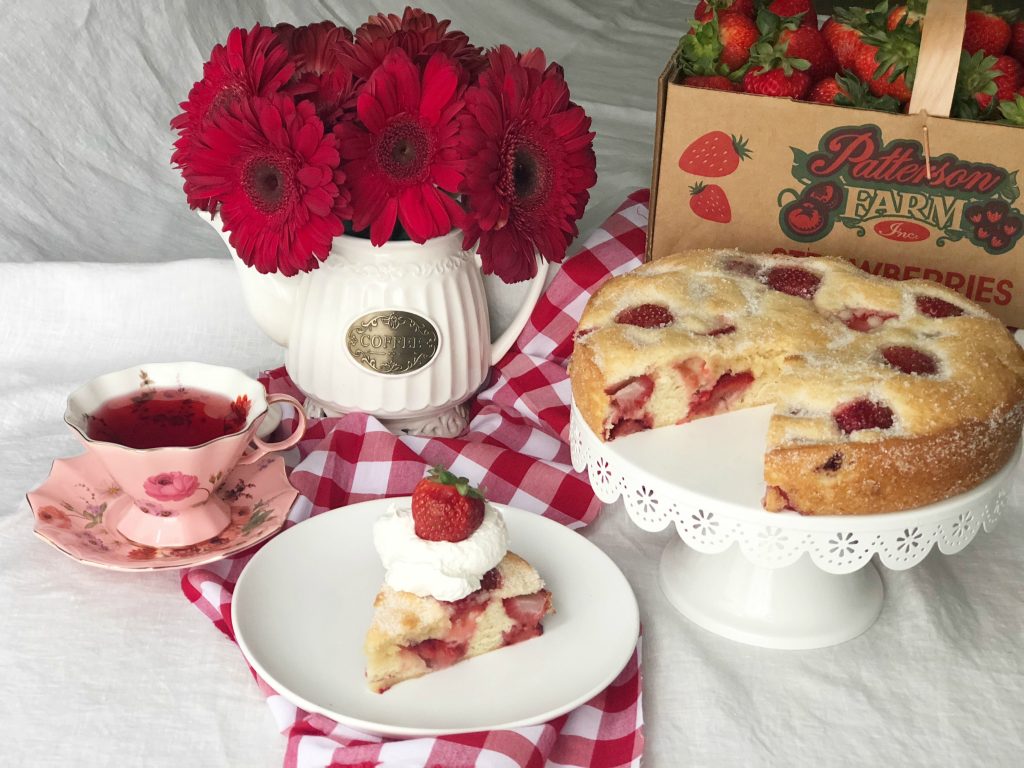 I love to serve it up with a some fresh whipped cream and a cup of herbal tea for guests.  The kiddos also love this cake, I tell them its Baked Strawberry Shortcake and I guess it really is!  It's a nice switch from traditional Strawberry Shortcake with the same great flavors.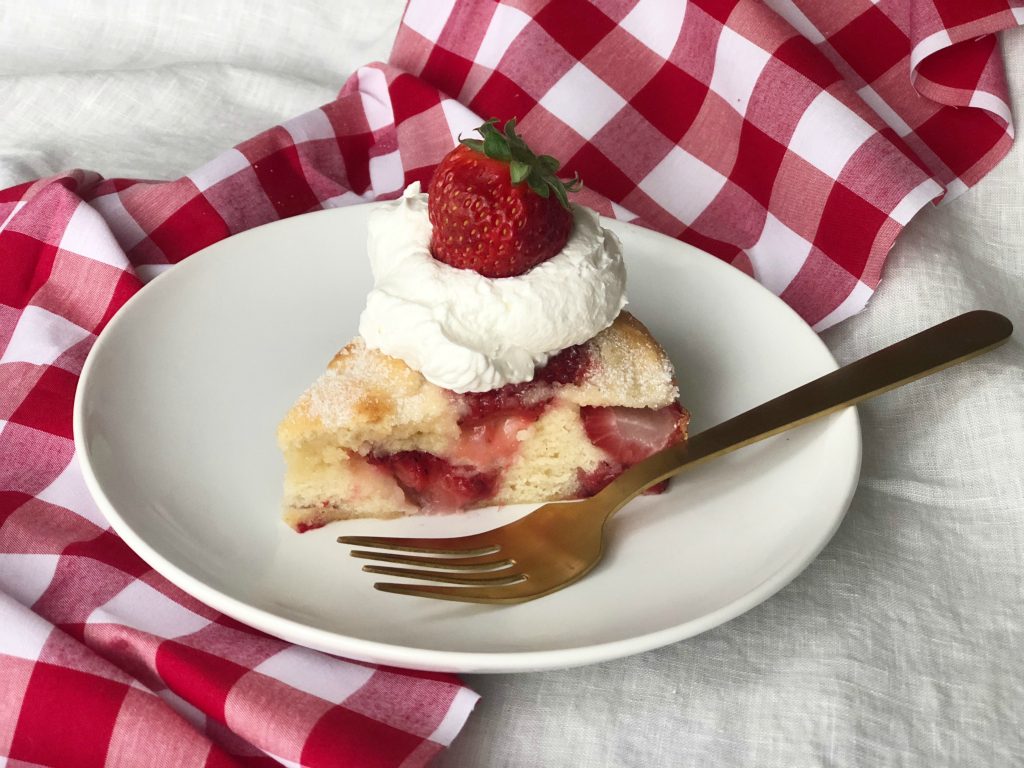 Get out and pick some fresh strawberries at your local farm, its such a fun outdoor family activity for Spring! Did you give this recipe a try?  Let me know in the comments!
Yield: 8 Slices
English Strawberry Tea Cake
prep time:
15 MINS
cook time:
40 MINS
total time:
55 MINS
English Strawberry Tea Cake is the perfect light dessert for the Spring and Summer months!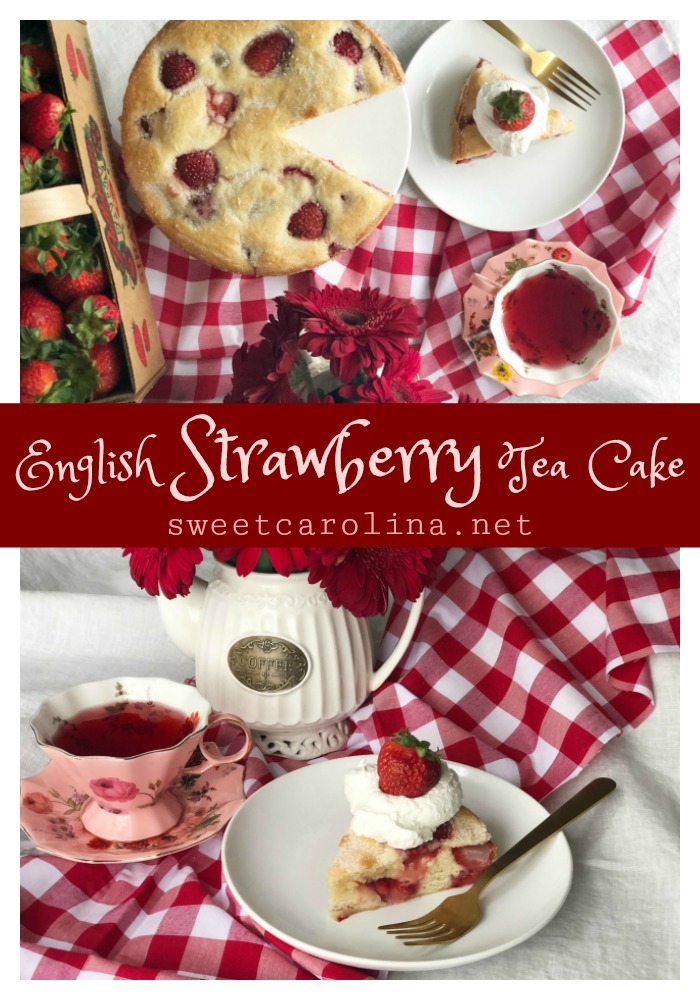 Ingredients:
1 Stick Butter, Room Temperature
1 Cup Granulated Sugar
2 Eggs
1 Tsp Vanilla
1-1/3 Cup All Purpose Flour
1-1/4 Tsp Baking Powder
1/4 Tsp Salt
1/2 Cup Sour Cream
3 Cups Fresh Strawberries, Halved
1/4 Cup Granulated Sugar, for the Top of Cake
Directions:
With an electric mixer Cream butter and sugar.
Add eggs and vanilla and sour cream and mix until well combined.
In a separate bowl combine flour, salt and baking powder.
Add the flour mixture to the wet ingredients and mix well.
Fold the strawberries into the batter.
Prep a greased 9 in round baking pan with parchment paper and add the batter to the pan.
Sprinkle the 1/4 granulated sugar over the top of the batter evenly.
Bake @ 350° for 40-45 minutes in the center rack.
Allow to cool completely, remove from pan and serve.
ENJOY!