You may be thinking, uhhh boyfriend?  Well this chocolate cake recipe comes with a story.  It starts out back when my husband was my boyfriend!  Ryan is probably the pickiest eater I have ever encountered.  When we met and he found out how much I love to cook he was worried to tell me that he only eats about 10 things…I'm not kidding.  He likes to rotate the same 10 or so meals and he's happy with that.   In the back of my mind I really thought I could change his pallet, 4 years later…no such luck.
Thank goodness his food phobia doesn't translate into the sweets department!  If I bake it, he'll eat it.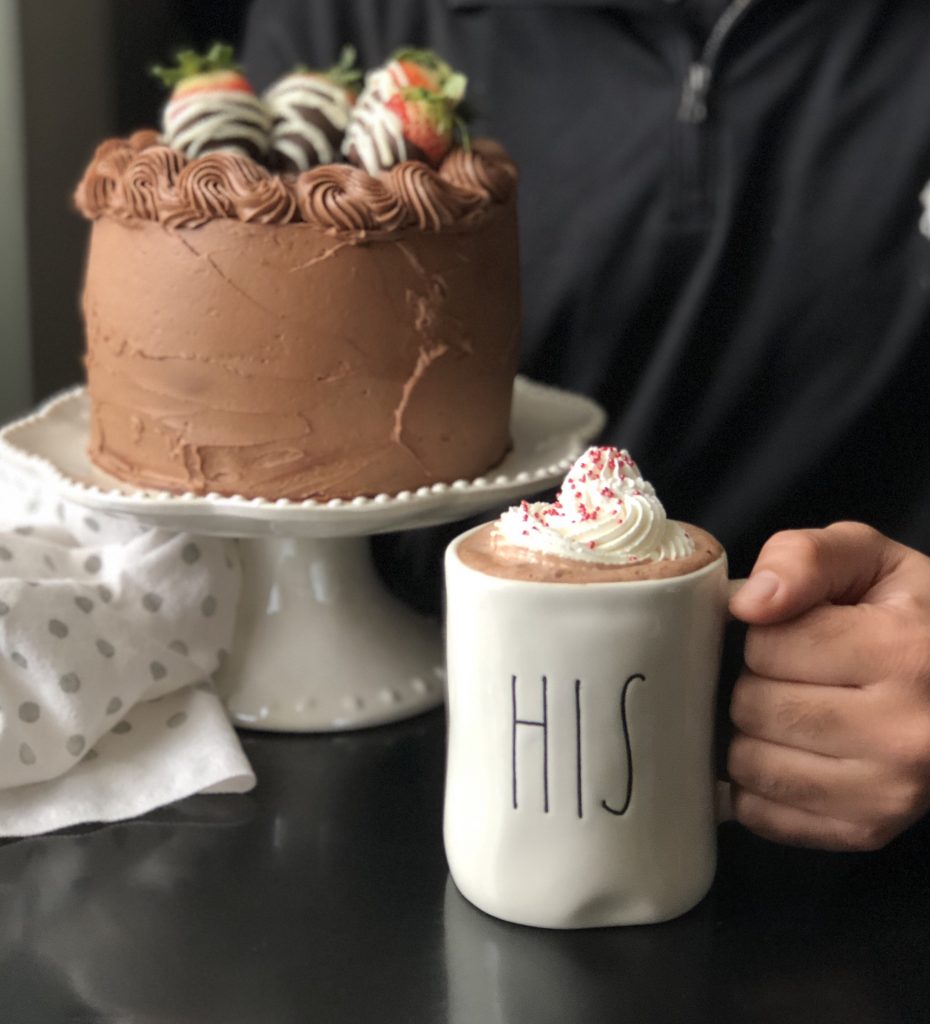 About 3 months after we started dating, he asked me if I could make him a chocolate cake.  I excitedly said "of course!"  I immediately got to work while he watched some TV.  I didn't let him come into the kitchen until it was complete.  This is an exact replica of the cake I made him.  I wish I took a picture of his face.  He told me he fully expected a Dunkan Hines sheet cake with premade Pillsbury frosting.  "Umm have you met me?"  He still tells people that story, and shows the original picture of that very cake.
Today while my hubby was playing hockey, I decided to whip up this cake for him as a treat.  It's always my go to chocolate cake recipe, my favorite chocolate frosting, and who doesn't love chocolate covered strawberries?!?  One thing you should know about me…you will never see one of those perfectly smooth decorated cakes from me.  I don't have the patience!  I am always in awe of these absolutely flawless cakes I see on Pinterest.  I wish I had the knack for it.  I make sure my cakes taste good and look pretty nice, but they will never look perfect!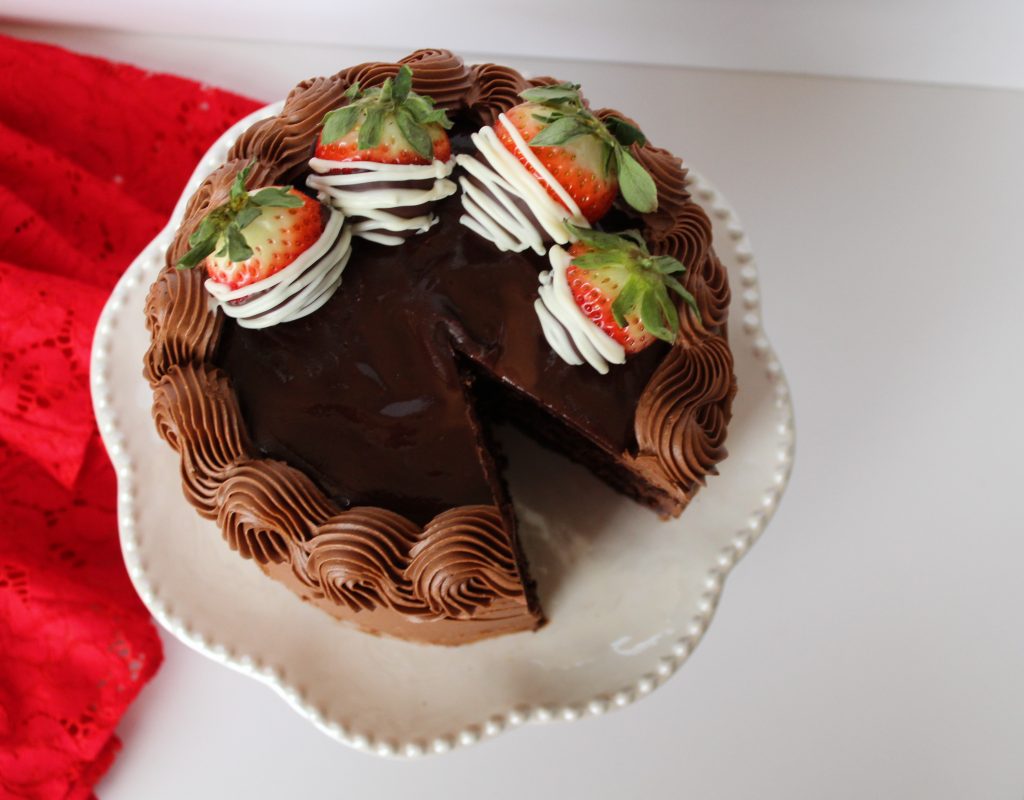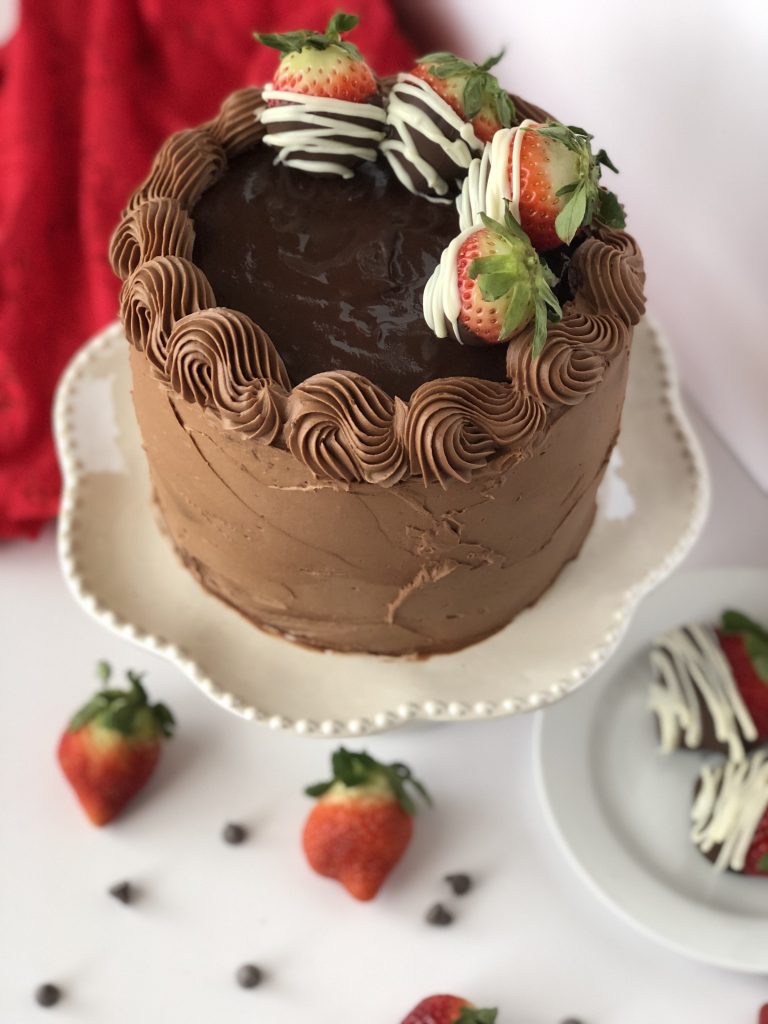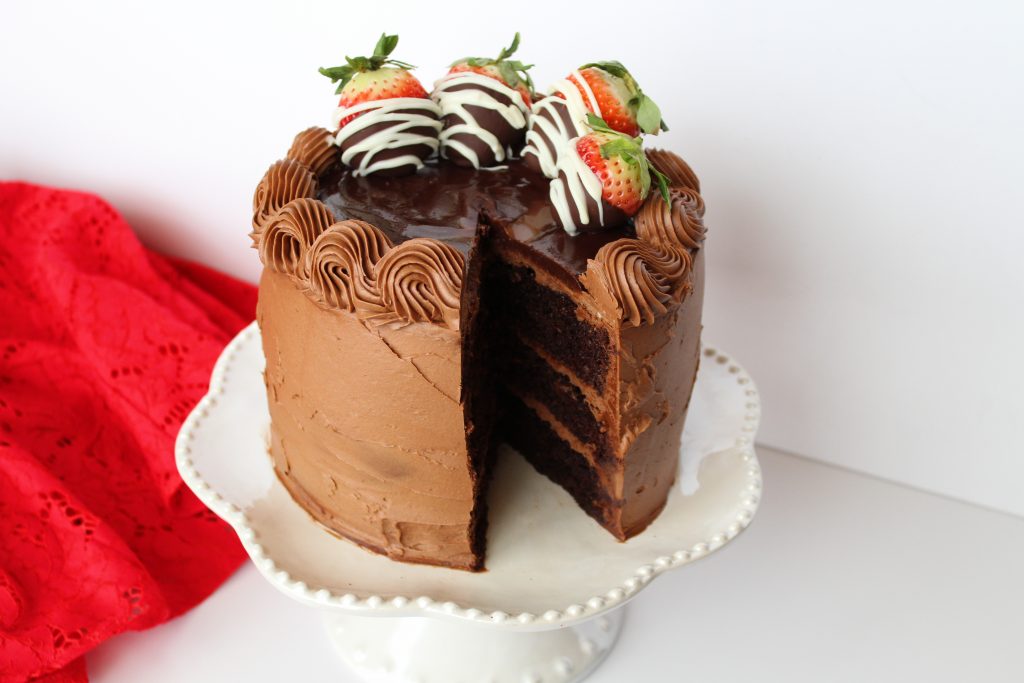 I hope you enjoy it as much as my hubby did that day.  It might be why he married me!
Yield: 10 Servings
My Boyfriend's Favorite Chocolate Cake
prep time:
10 MINS
cook time:
35 MINS
total time:
45 MINS
This is my all time favorite Chocolate Cake! You won't be disappointed!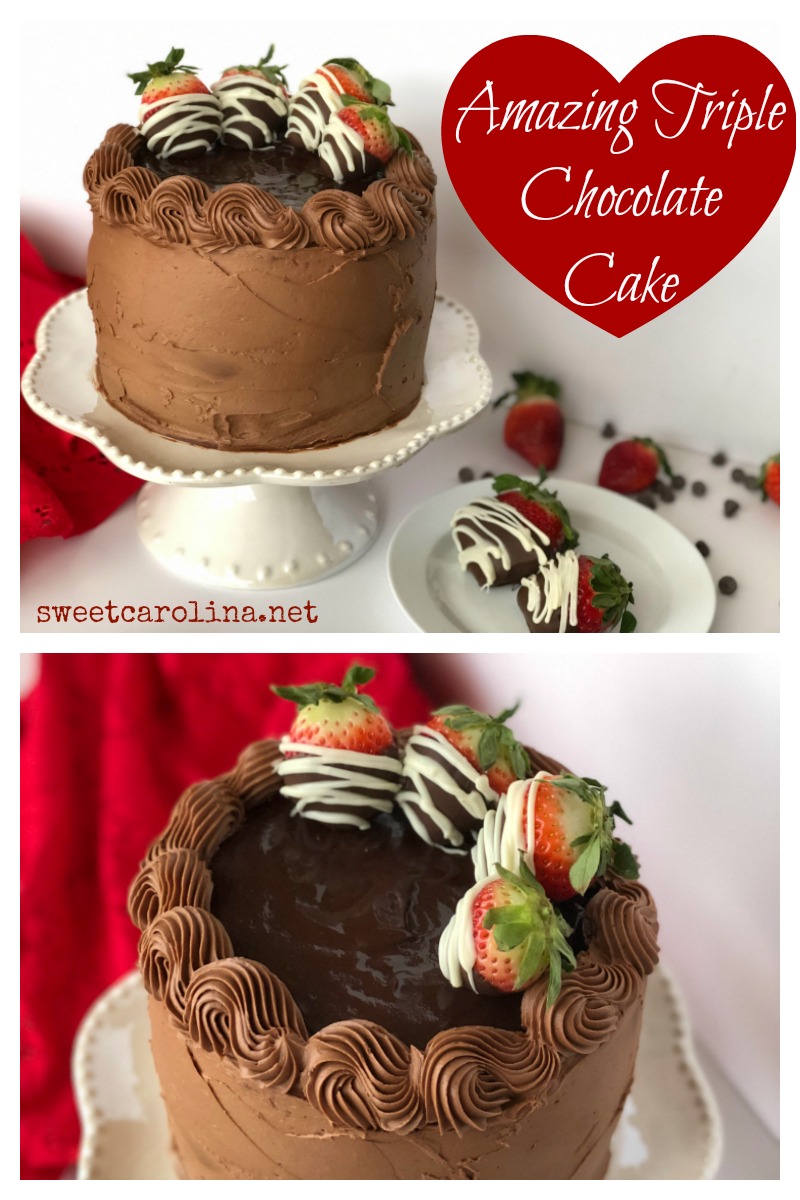 For the Cake
Ingredients:
2 Cups Granulated Sugar
1-3/4 Cups All-purpose Flour
3/4 cup Cocoa Powder
1-1/2 Teaspoons Baking Powder
1-1/2 Teaspoons Baking Soda
1 Teaspoon Salt
2 Eggs
1 Cup Milk
1/2 cup Vegetable Oil
1 Teaspoon Vanilla Extract
1 Cup Hot Coffee
Directions:
Heat oven to 350 F. Grease and flour two 9-inch round baking pans or 3 6-inch baking pans.
Stir together the dry ingredients, sugar, flour, cocoa, baking powder, baking soda and salt in large bowl.
Add eggs, milk, oil and vanilla; beat on medium speed of mixer about 2 minutes.
Add the hot coffee and mix an additional minute until combined.
Pour batter into prepared pans.
Bake 30 to 35 minutes or until wooden pick inserted in center comes out clean. Cool 10 minutes; remove from pans to wire racks. Cool completely.
For the Frosting
Ingredients:
3 Sticks Salted Butter, at room temperature
1/2 Brick Cream Cheese, at room temperature
4 Cups Powdered Sugar
1/4 Cup Heavy Cream
1 Teaspoon Vanilla Extract
Directions:
In a stand mixer, combine the cream cheese and butter for about 3 minutes until blended and fluffy.
Add the powdered sugar, and vanilla.
Beat on medium, slowly add the heavy cream.
The frosting should be nice and fluffy and easy to spread.
Make sure you taste it! You may want to add more sugar. I don't like my frosting too too sweet!
For the Ganache
Ingredients:
6oz Semi-Sweet or Bittersweet Chocolate Chips
1/2 Cup Heavy Cream
1 Tablespoon Rum (optional)
Directions:
Place the chocolate in a small bowl.
In a saucepan heat the heavy cream until scalding.
Pour the scalding cream over the chocolate and let sit for about a minute. This will give the chocolate a chance to melt.
Stir until smooth.
Stir in the rum.
Allow the ganache to cool slightly before pouring on the cake.
ENJOY!