Yum, yum, yum! My family has been requesting Peanut Butter Blossoms cookies for a while now, and to be honest they didn't have to twist my arm very much considering they are one of my favorite cookies! So as requested, I made my family this highly sought after treat. As per usual, I needed to put my own spin on it. I had planned on making a Red Velvet Cake this weekend instead, which got me thinking! I could turn these cookies into something beautiful for any occasion.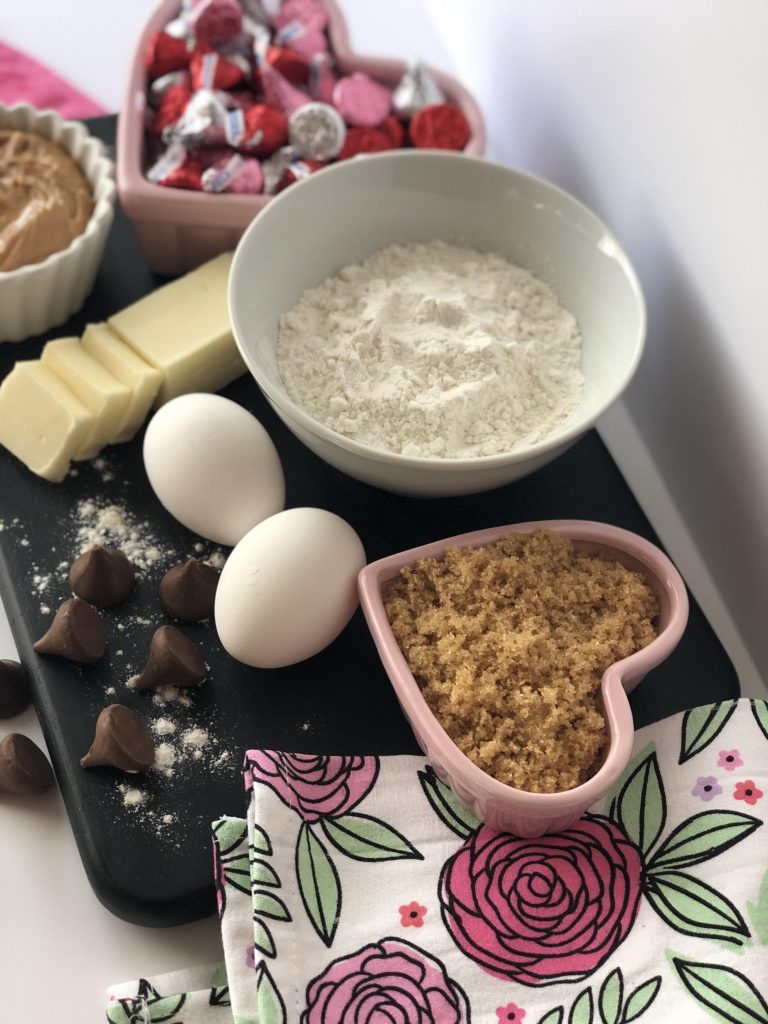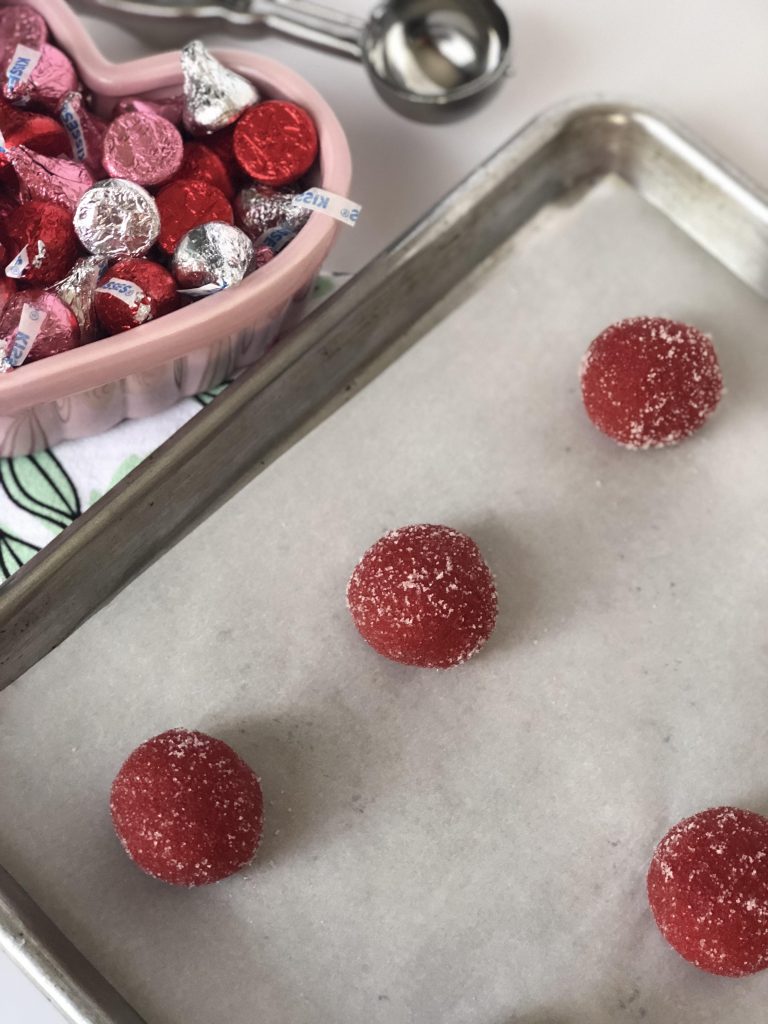 I love to make little dessert display tables anytime I am involved in planning a party. I am always thinking of new ways to incorporate treats to match whatever color scheme we have going.  Since I had red food coloring on hand I decided to go for it. I also have a little confession to make, I had some blue food coloring too and thought I would mix the two for purple blossoms.  Well let's just say no one wants to eat a grey cookie!  I will definitely use purple food coloring next time instead of mixing! Trial and error right?!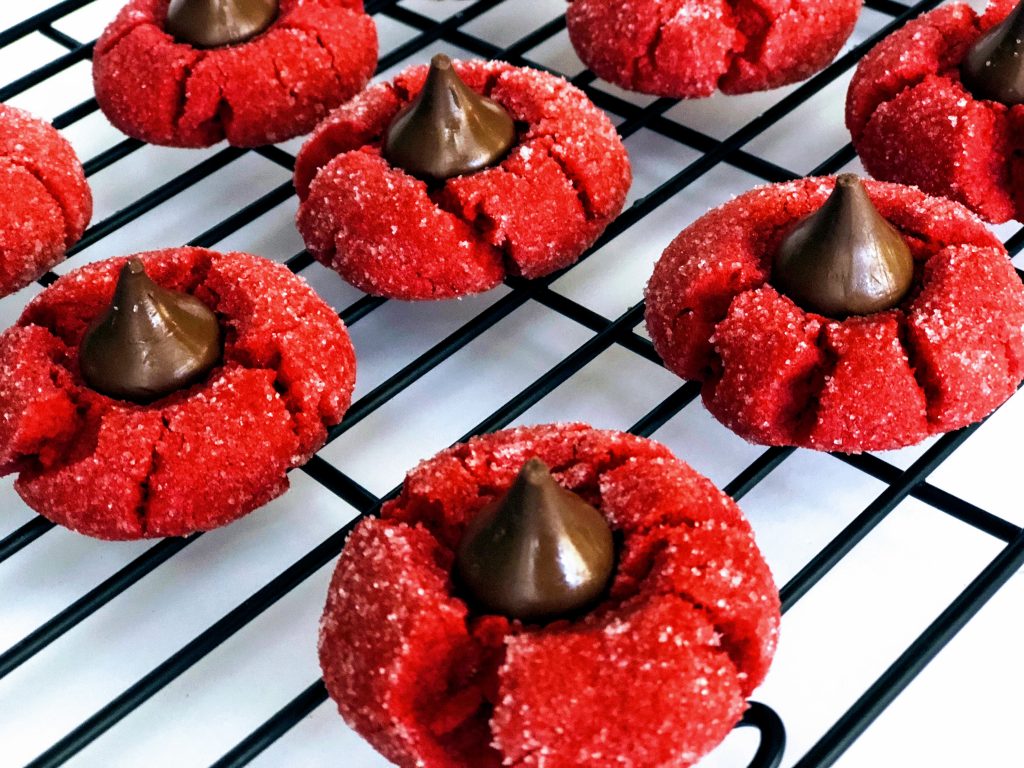 You can turn these cookies into any color of the rainbow, if you are going outside of the primary colors just be sure to use a gel food coloring in whichever color you choose, like Wilton Gel Food coloring. One other thing I wish I did was to roll the cookies in colored sanding sugar to match whatever color I choose to make the cookie.
Overall these were a hit and the color looked great! Did you make these? Make sure you let me know how they came out in the comments.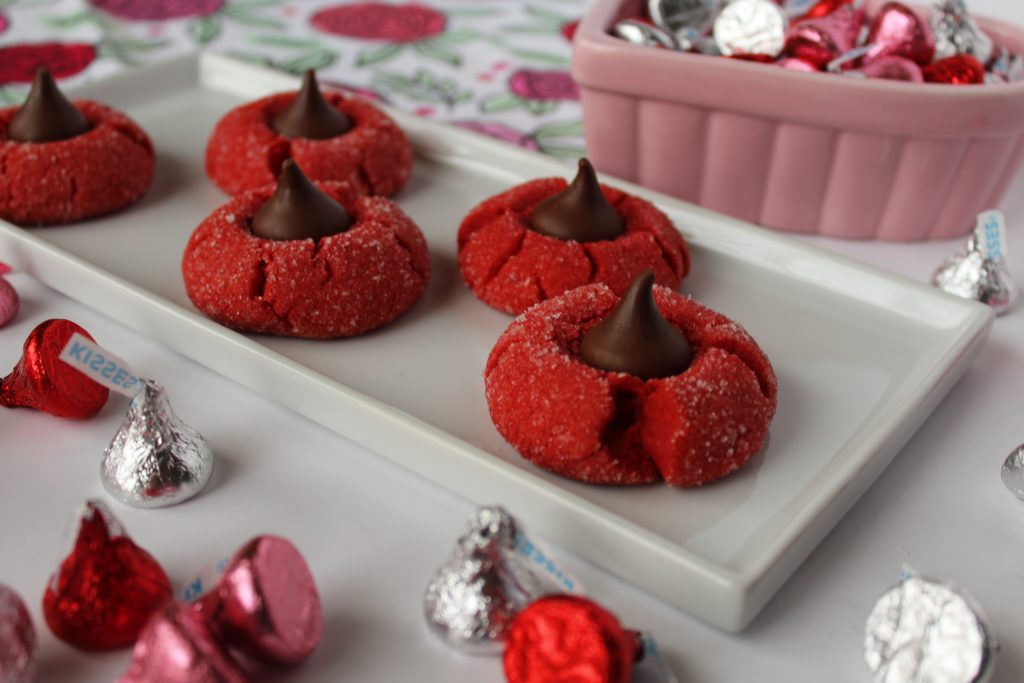 Yield: 48 Cookies
Red Velvet Peanut Butter Blossoms
prep time:
10 MINS
cook time:
30 MINS
total time:
40 MINS
Who knew you could turn these delicious peanut butter blossoms into a color for any occassion!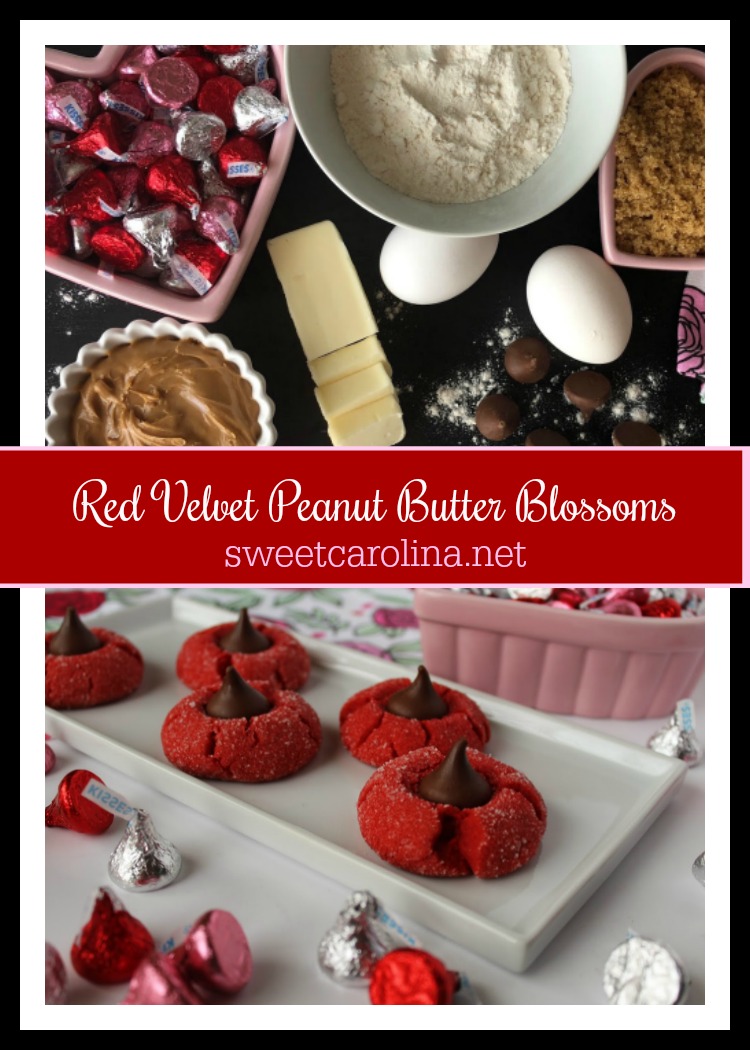 Ingredients:
48 Hershey's Kisses
1/2 Cup Shortening or Butter, you can also use a combination
3/4 Cups Peanut Butter
1/3 Cup Granulated Sugar
1/3 Cup Light Brown Sugar, packed
1 Egg
2 Tablespoons Milk
1-2 Tablespoons Red Food Coloring
1 Teaspoon Vanilla Extract
1-1/2 Cups All Purpose Flour
1 Teaspoon Baking Soda
1/2 Teaspoon Salt
1/3 Cup Granulated Sugar for rolling, you can also use colored sanding sugar
Directions:
Heat oven to 375°F. Remove wrappers from chocolates.
Beat shortening (or butter) and peanut butter in large bowl until well blended.
Add 1/3 cup granulated sugar and brown sugar; beat until fluffy. Add egg, milk, vanilla, and food coloring; beat well.
Stir together flour, baking soda and salt; gradually beat into peanut butter mixture.
Shape dough into 1-inch balls. Roll in granulated sugar; place on ungreased cookie sheet.
Bake 8 to 10 minutes or until lightly browned.
Immediately press a chocolate into center of each cookie; cookie will crack around edges. Remove from cookie sheet to wire rack. Cool completely.
ENJOY!