I'm a lover of all things coconut.  Put it in a Pina Colada, pair it with chocolate, put it on some shrimp…You name it, I like it. I've been making different types of bread pudding for years now in many different flavors.  I find that bread pudding is an easy, versatile dessert, with very few and basic ingredients. I plan to share all of my favorites with you eventually, but today I'm sharing Creamy Coconut Bread Pudding recipe. This recipe was a bit of an experiment for me as I had to venture off from my basic bread pudding recipe.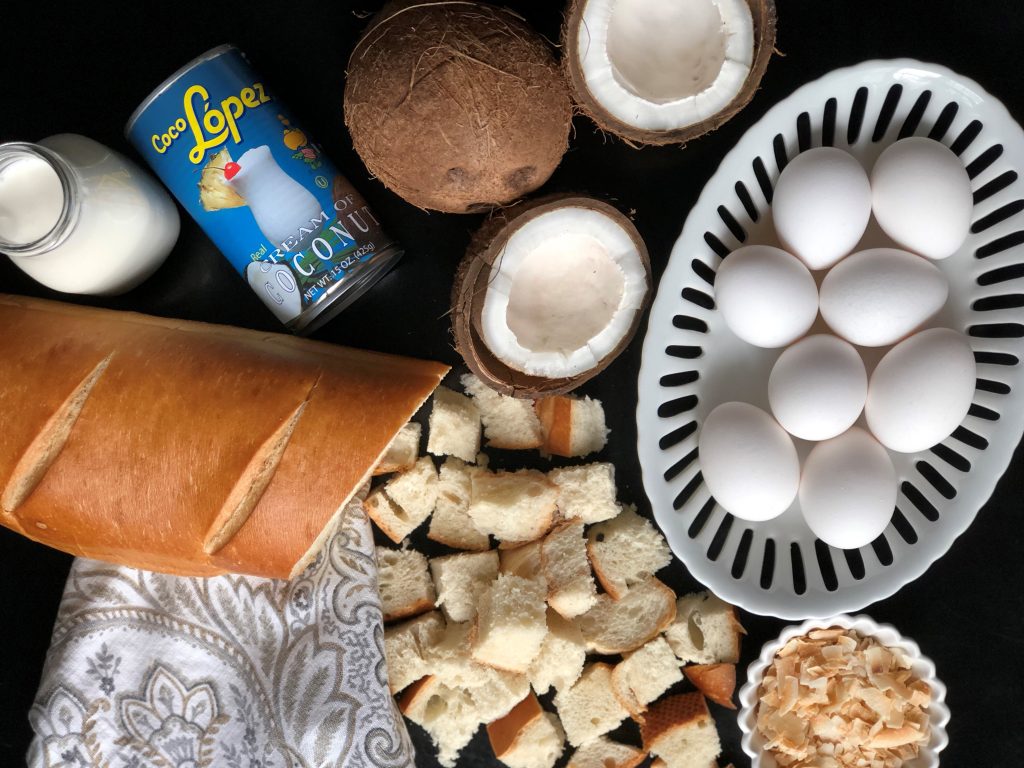 Through my years of cooking and baking, I realized that bread pudding and French toast casserole have all of the same ingredients!  So depending on the occasion, I change the name. Tonight this recipe was bread pudding dessert, tomorrow morning it will be French Toast Casserole!  Haha!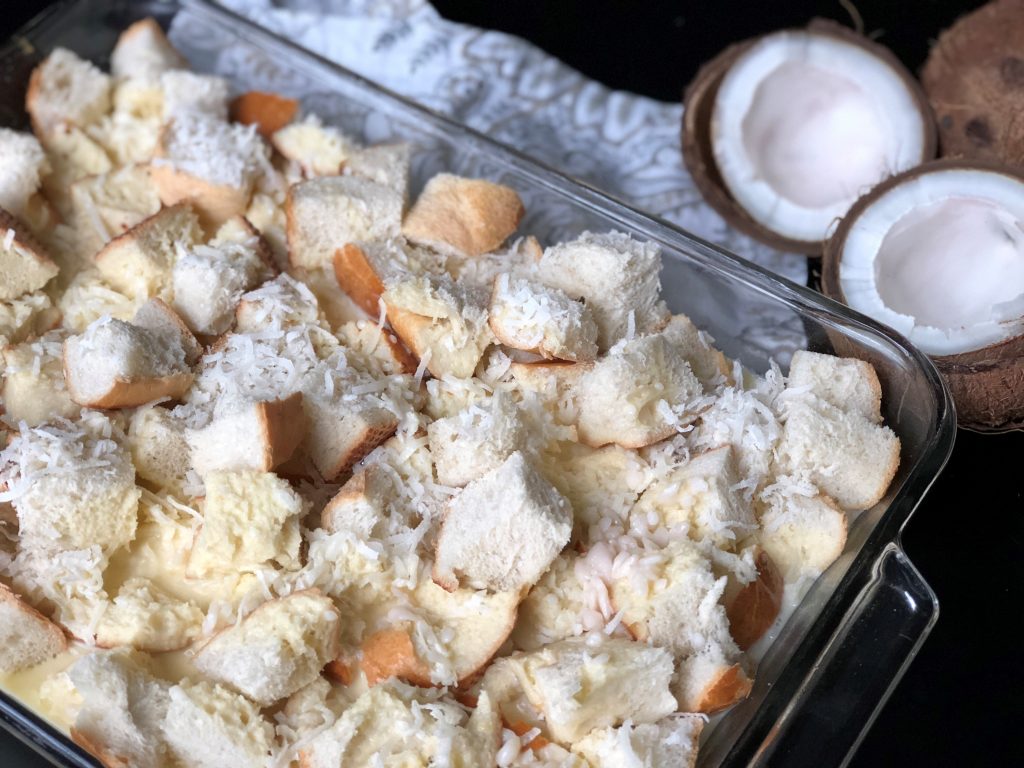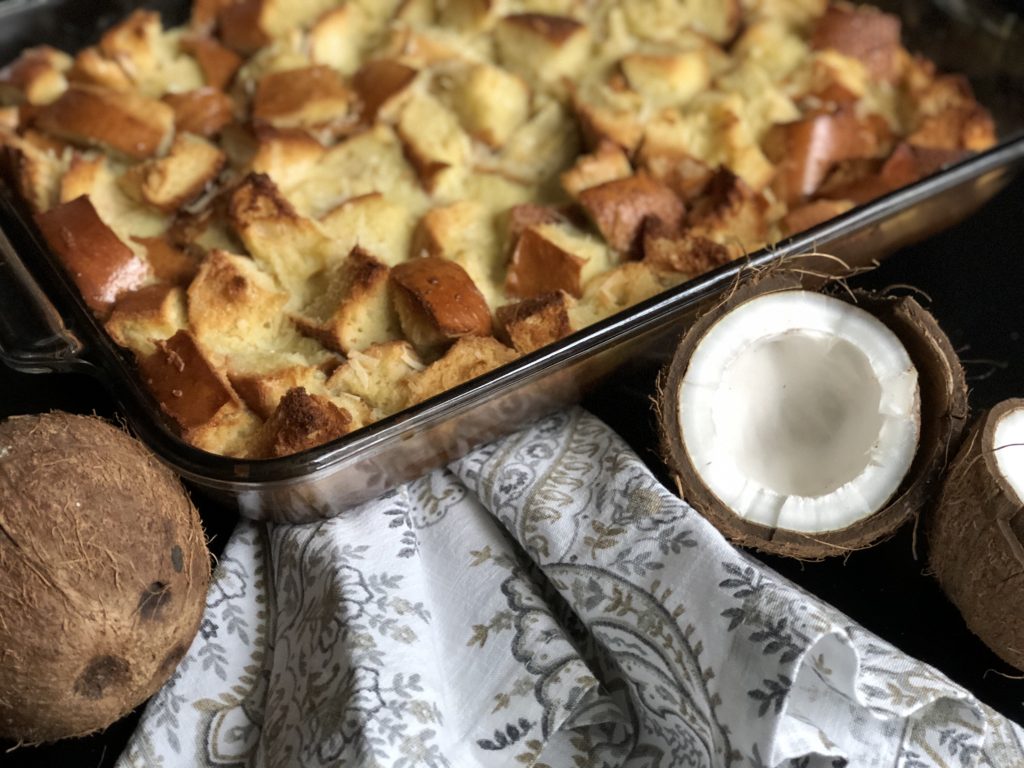 To finish it off I added some fresh whipped cram and toasted coconut flakes.  If you're serving this at breakfast, a little maple syrup would really take this up a notch! This recipe ended up being a big win! I will defiantly be adding this to my list of favorite bread puddings!
Did you make this recipe? Let me know how it can out in the comments!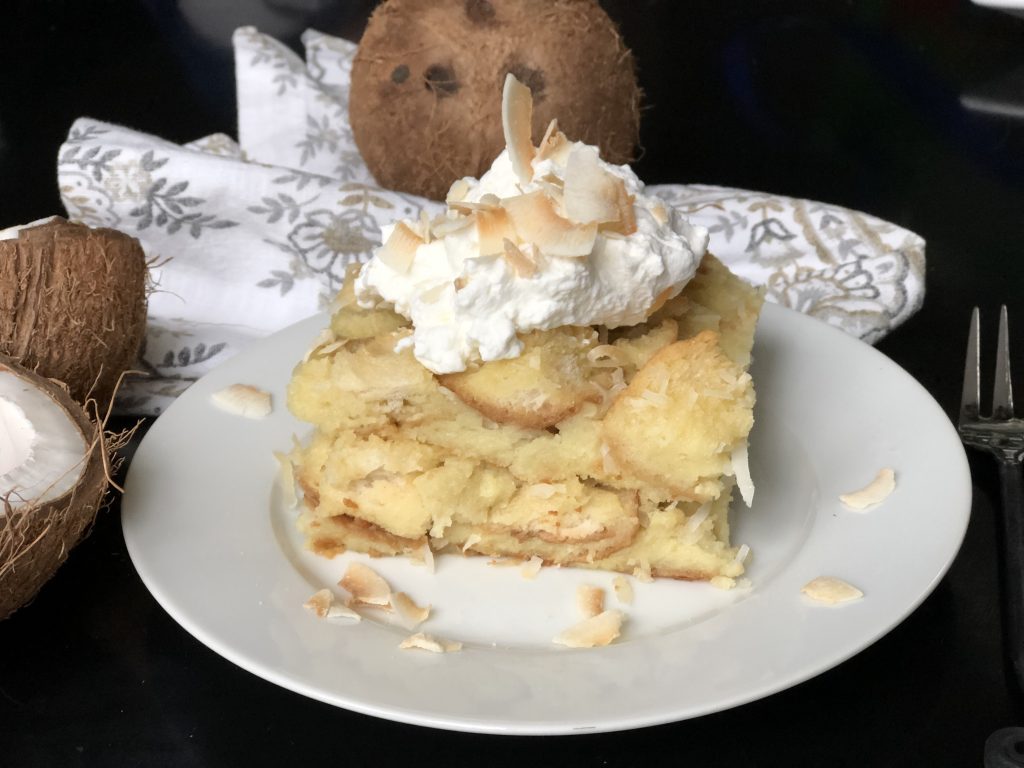 Yield: 10-12 Servings
Creamy Coconut Bread Pudding
prep time:
10 MINS
cook time:
60 MINS
total time:
70 MINS
This recipe is an easy and decadent dessert for coconut lovers!
Ingredients:
1 loaf of Italian bread, cubed
2 Cups Heavy Cream
1 15oz Cream of Coconut
8 eggs
3/4 Cup Sugar
1 Teaspoon Vanilla
1 Teaspoon Coconut Extract
Directions:
Preheat oven to 350°
Prepare a 13×9 in glass baking dish with baking spray. This must be a clear glass dish.
Cut the Italian bread into bitesize cubes, I would say about 1 ½ in.
In a mixing bowl add the can of cream of coconut, the cream and liquid will be separated, mix well.
Add the bread cubes to the egg and cream mixture and toss with your hands until well coated.
Pour the entire mixture into the prepared glass baking dish. Let sit for 10-15 minutes so that the bread can absorb the cream mixture.
Place the baking dish into the oven, cook for 30 minutes.
After 30 minutes, place aluminum foil over the dish to prevent the bread from burning.
Bake an additional 30 minutes.
To test if the bread pudding is cooked through, remove from the oven and check under the glass dish.  The bottom should be golden brown. If the bottom is not golden brown, bake an additional 10 minutes and recheck.
ENJOY!