Who doesn't love a nice warm slice of Banana Bread? Well if you like Banana Bread you will most definitely LOVE this Banana Bread recipe! Whether I'm making this when hosting brunch with the girls and just for a nice weekend family breakfast, everyone always loves it!
This weekend I was in the mood to bake (as usual) and decided I wanted to make Banana Bread, and alas…I have overly ripened bananas sitting on my counter! Perfect! I made a few loaves of my favorite banana bread, it's moist, delicious and always a big hit. And today is your lucky day because you're getting not one, but two recipes in today's post! My family was the recipient of some scrumptious Banana Bread French Toast for breakfast this weekend.
I've always liked to cook from scratch and because of that, my children have become accustomed to it. My husband loves his Hostess and Little Debbie snack cakes and can never understand why the kids don't eat them, they are just used to having REAL ingredient in their baked goods. I put this delicious French Toast on the table in front of my 7 year old and his response was "Oh good, this is fresh whipped cream!" Sometimes I think I'm doing whoever my boys marry a huge disservice! Their expectations are getting a little high when it comes to mealtime. I kind of feel bad for whoever she is…that's lie, no I don't! Ha!
I like to serve this up with my Homemade Breakfast Sausage and One Potato, Two Potato Hash!
TIP: Make a few loaves of Banana Bread and freeze the extra ones for later use to make delicious French Toast on a whim!
Yield: 4-6 Servings
Banana Bread French Toast
prep time:
10 MINS
cook time:
10 MINS
total time:
20 MINS
Whether hosting brunch for the girls or just for a nice weekend family breakfast, everyone always loves this Banana Bread French Toast!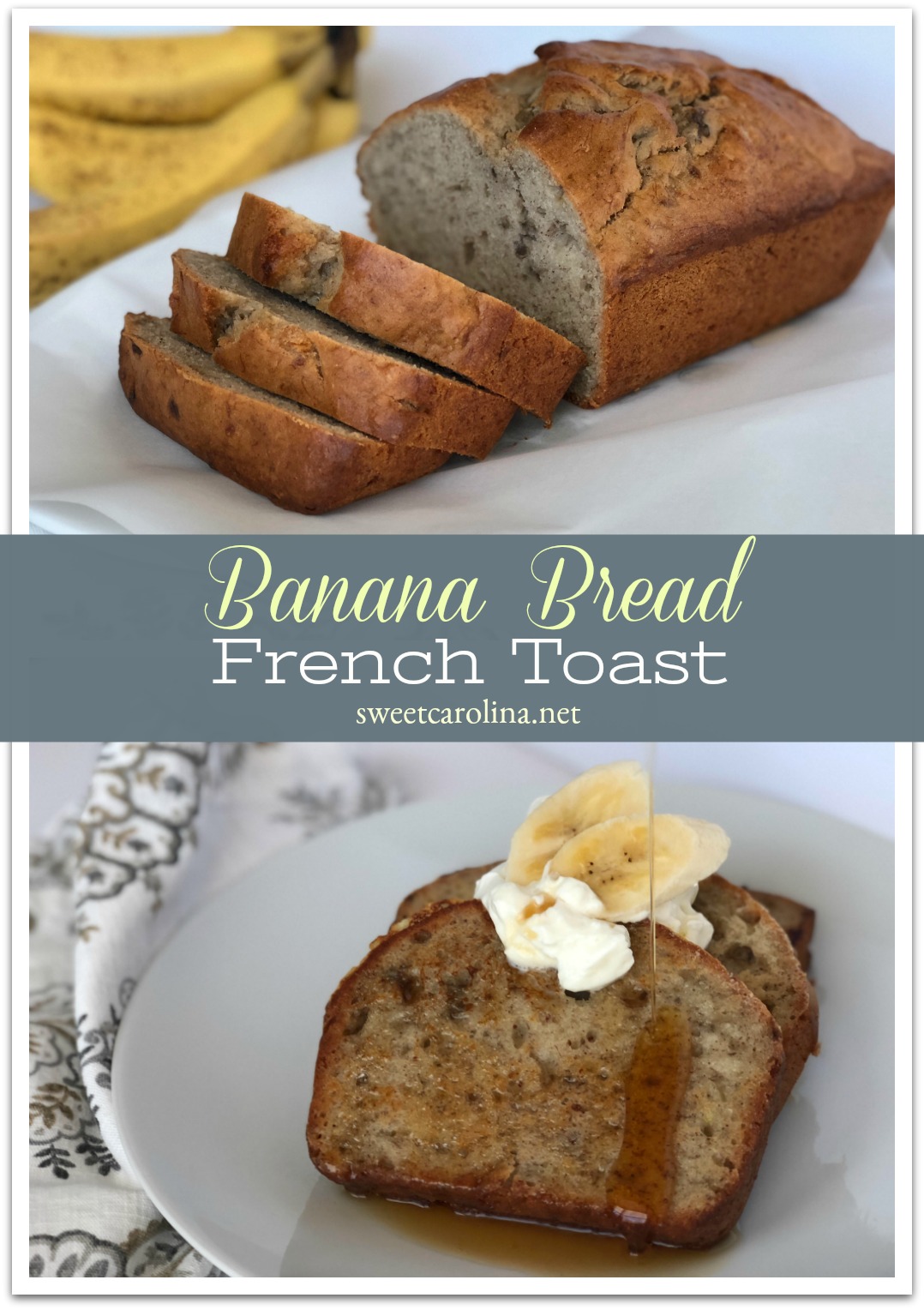 Ingredients:
1 loaf of Banana Bread
2 Eggs
1 Cup Milk
2 Tablespoons Sugar
1 Teaspoon Cinnamon
1/2 Teaspoon Nutmeg
Directions:
Whisk together the milk, eggs, sugar, cinnamon and nutmeg.
Heat a skillet to medium heat, grease the skillet with butter.
Slice your banana bread to about 1 inch thick slices. Dip the each slice into the batter on both sides.
Add the slices to the hot skillet.  Let each side cook for 1-2 minutes or until golden brown.
Serve hot with Maple Syrup and whipped cream.
ENJOY!
Yield: 10 Servings
Banana Bread
prep time:
15 MINS
cook time:
70 MINS
total time:
85 MINS
Who doesn't love a nice warm slice of Banana Bread? This recipe won't disappoint!
Ingredients:
3 very ripe bananas, mashed (very ripe bananas make for moist bread)
2 Eggs
1/3 Cup Melted Butter
1/2 Cup Sour Cream
1 Teaspoon Vanilla Extract
1-3/4 Cups All Purpose Flour
3 Teaspoons Baking Powder
1/2 Teaspoon Salt
1-1/2 Teaspoons Cinnamon
1/2 Walnuts (optional)
Directions:
Preheat oven at 325°
Spray a loaf pan with nonstick cooking spray
In a medium mixing bowl, combine mashed bananas, eggs, butter, sour cream, and sugar. Mix thoroughly.
In a small bowl mix together the dry ingredients; flour, baking powder, salt and cinnamon.
Add the dry ingredient to the wet ingredients and mix until combined. Add nuts if you choose to do so.
Add batter to prepared loaf pan.
Bake for one hour and 10 minutes. To test, you can stick a toothpick in the middle and it should come out clean, no batter if the bread is fully cooked.
Allow to cool before slicing.
ENJOY!